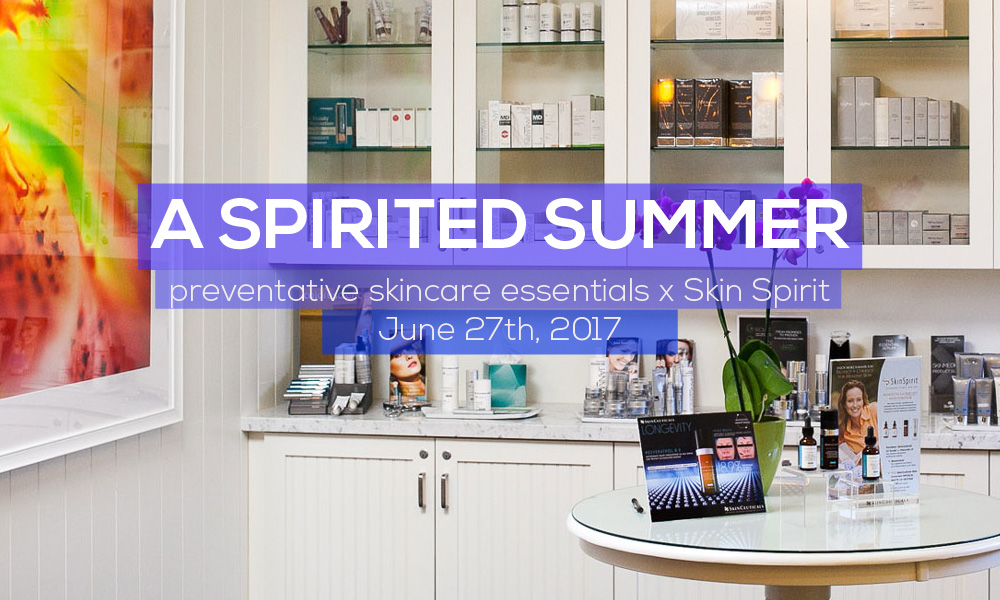 Suns out, puns out.
Rule #1: not all sunscreen is created equal.
In this case, don't ask for forgiveness.
The secret to unlocking healthy, youthful skin is high quality product, a consistent routine and a little something special from the team at Skin Spirit in U Village.
Summer is a coveted time for residents of the Pacific Northwest. Having been raised in central Washington, I'm used to four distinct weather seasons; from subzero winters to scorching summers. I have called Seattle home for nearly ten years now and while I have a fondness for overcast skies (that photo lighting though!), it is hard to think about leaving town on a perfect summer day.
I recently partnered with Skin Spirit to host a reception style event aimed at teaching gentlemen in their 20s and 30s about preventive skincare. This truly was perfect timing because those who know me understand how obsessive I am about my skincare routine. Truth be told, I have struggled with the appearance of my skin, specifically acne, since I was twelve years old. I don't think a day went by throughout high school and college without a distracting abrasion on my face. Luckily, I learned about the importance of high quality (not necessarily expensive) products and the value of consistency in order to maintain a healthy complexion.
I believe that skincare should be approached through a preventative lens and that our skin has different needs at different points in our lives or times of the year. With many sunny days ahead of me, I was grateful to get a refresher from the talented team at Skin Spirit in University Village.
With that, I am delighted to offer you the inside scoop and share some of the most popular options to maintaining youthful skin while hitting the breaks on the aging process.
Beneath the Surface / I was surprised to learn that bone density and muscle structure can affect the appearance of our skin. Since our facial muscles are subcutaneous (just below the skin) they can have a significant impact on the elasticity and youthfulness as we age. The trained medical experts at Skin Spirit use BOTOX as a preventative technique to slow down the appearance of wrinkles such as crow's feet and frown lines.
Skin Deep / Because Skin Spirit approaches their services from a medical perspective their facials are unlike anything I've heard of. From extractions, to chemical peels and medical-grade masks, their facials sound like a little slice of heaven all in a luxurious spa setting.
Sun of a Gun / One of my favorite activities is learning about new skincare products and (of course) trying them out. At this event, I was introduced to SkinMedica which designs products using years of scientific research with a long-term care philosophy. My new favorite is the Total Defense + Repair Broad Spectrum Sunscreen SPF 34 (pictured below) that not only protects from infrared rays but also has amazing restorative properties. One unexpected fact that I learned is that we should use sunscreen every single day; whether the sun is out or not. Seattle's overcast skies retain infrared rays and you can even be expose to them from lighting in your office! Needless to say I got the hint and have since tweaked my skincare routine. This particular formula is super lite and non greasy.
I hope that you enjoy the rest of your summer. Feel free to comment below with questions or your own skincare secrets – I'm always looking for suggestions! 🙂
– Andrew