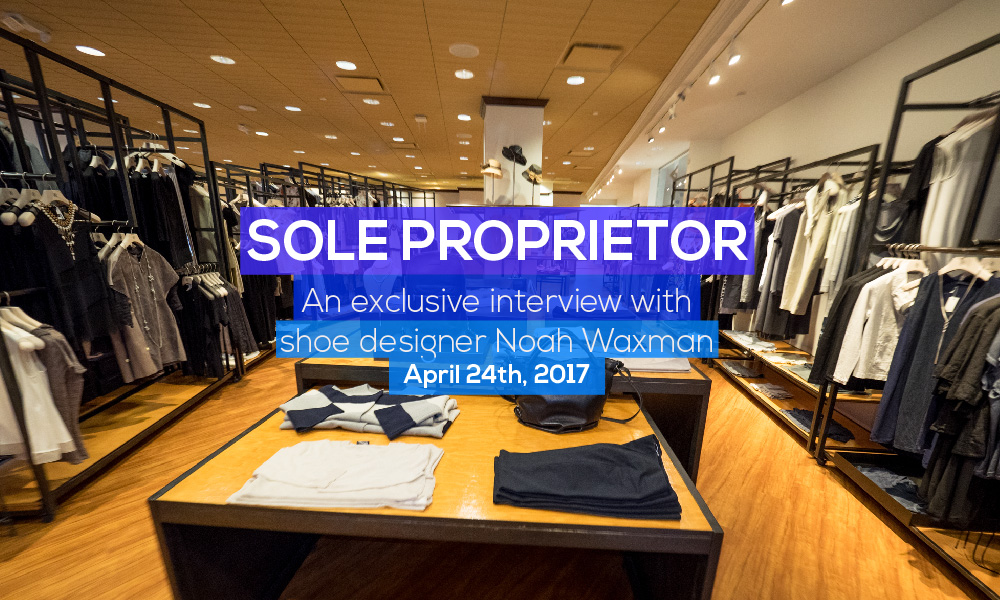 Sole Mates
Noah Waxman is a New York-based footwear designer who blends traditional methods of shoemaking with a modern aesthetic.
Local Flavor
Seattle based boutique Butch Blum is the exclusive retailer of Noah Waxman shoes in the Northwest.
Toward the end of my conversation with New York-based shoe designer Noah Waxman, I asked him which design from his new collection was his favorite. He pointed to the pair of gray calf suede mid-top sneakers he was wearing named "Hamilton." The design was inspired by the hit Broadway musical and is defined by a two-tone kiltie above the shoelaces, reminiscent of the frill necklines of 17th century men's shirting.
This is a familiar technique for the designer who combines over ten years of shoemaking skill with a strong background in art and design.
Mr. Waxman spent many years in Holland learning the traditional methods of designing and manufacturing shoes. "I always had a fascination for shoes, but it was those years of learning about engineering, pattern making and carving that really gave me the respect for the craft," he said. Waxman's time in Holland was also marked by the contrast between historic architecture and a modern way of living, another perspective that inspires his designs.
"I sometimes joke that my shoes have a quality of old and new," Waxman continued. "I want you to pick them up and have them be fresh and modern but I also want you to feel like you could have picked it up from your great-grandfather's closet…a sense of old worldliness, you know?"
After returning to New York, the designer launched his eponymous label in 2013. The men's collection is a curated assortment of boots, sneakers and dress shoes that are characterized by rich materials, clean lines and well-measured proportions. The designer also incorporates an element of "fun" that is brought to life by the versatile nature of his designs, ensuring they transition from day to evening with ease. Initially, all of Waxman's creations were handmade in the U.S., but the brand has since expanded its production to include artisans in Italy and Portugal. A pair of shoes retails from $295.00 to $995.00.
I learned all of this during Waxman's recent trip to Seattle for a trunk show at Butch Blum, the legendary downtown retailer and exclusive seller of the Noah Waxman brand in the Northwest. There the designer was on-hand to answer questions from customers. One well-dressed gentleman who stopped in on his way to a flight remarked, "I learned about this place because of your shoes!" He probably walked away with a shoebox – or two.
I was curious to know what was next for Waxman. He recently opened a storefront in Greenwich Village and introduced four menswear-inspired designs for women. (Those also literally walked out during the trunk show). For now, he is mainly interested in growing his brand while maintaining the artisan quality for which it is known. When asked if he has a style icon, the answer was "No." But someone he admires? Serena Williams.
"I'm a really big tennis fanatic…her beauty and dominance comes out in the court but also in her look and everything she does. I'd like to bring in the sense of really believing in it to what I'm doing."
Personally, I think Mr. Waxman's white Gotham sneakers would be perfect for the court. Your serve, Ms. Williams.